Did you know that I don't just make and sell leather and waxed canvas items? I also have a course that teaches the basics of leatherworking. Leatherwork 101 is the course in a box for your middle or high schooler to learn the basics of leatherwork and to create their first projects. All materials and tools needed for the practice exercises and projects are shipped straight to your door. Online video lessons walk them through each practice exercise and project.
---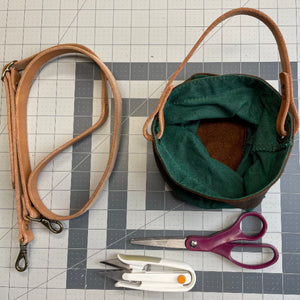 My new adjustable foraging straps easily transform your bucket into a cross-body foraging bag. I've recently added them as an option when purchasing buckets, but what if you already purchased one of my waxed canvas and leather buckets but now you're eying the adjustable foraging straps?  The good news is that you can buy just the straps and install them yourself. It's quick and easy! Follow this tutorial to easily remove the bucket handle and install the adjustable foraging strap. ** Note ** Once you remove the bucket handle, the only way to reattach it is to sew it back on. You can...
---
Did you know that leather can be made from the hide of just about any animal? Read on to learn about some of the common, and less common, animal hides used to make leather.
---
Wondering why cattle brands are necessary? Find out here, and see some examples of brands on pieces of leather.